<![if !vml]>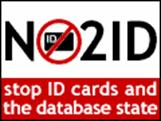 <![endif]>
Hammersmith & Fulham Group
Reply to:   P. O. Box 13199, London SW6 6ZU
tel:            07976-414913 (preferred)
                  020-7386 1837
email:       hammersmith@no2id.net
website:    www.no2id.net
<![if !vml]> <![endif]>
Dear                   
ID cards are again a hot issue, given continuing data losses and rising identity theft. The planned system will lead to amassing sensitive data and tracking individuals on an unprecedented scale, while drawing investment away from essential public services.
The non-party political NO2ID campaign would like to issue the following letter to the press with as many signatures as possible from public figures and community groups.
Dear Editor,

This month the government begins issuing "ID cards for foreigners". First affected will be students and those marrying Britons. Gradually residents from outside Europe will be fingerprinted and have their movements tracked. (Later, so would we all.)

This is unlikely to put off refugees with nothing to lose. But talented sportsmen in the mould of a Michael Essien or a Brian McBride and the overseas students at West London College have a choice. Some will decide Britain has become too unfriendly. When the US introduced more hostile visa conditions, numbers applying to study there fell by 15% and Bill Gates complained that Microsoft could no longer hire some of the best software engineers.

If this scheme is continued it will lead to less fee-income for our colleges. British students will have to pay higher fees, and will have less money to spend with local businesses. Fewer of the world's star performers will choose to make their homes here.

We the undersigned value the contribution that these gifted people currently make to our institutions and our society. We think our country should treat them as guests, not criminal suspects. "ID cards for foreigners" will see us suffer culturally and economically.

Yours faithfully…
I would be very grateful if you could reply – email preferred – by Friday 14th November please, letting us know if you are happy to be a signatory. (This does not imply any other stance or commitment)
Any questions welcomed.

RSVP, with best wishes.

(name)
(Co-ordinator)
8 November 2008